Who modifies a Chevy Colorado? Okay, maybe some people with legitimate off-road interests, but you usually don't picture these mods:
Craigslist ad – while it lasts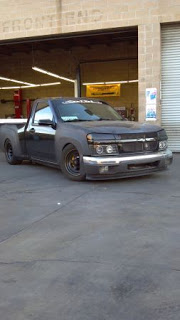 Yes, the exterior looks a bit odd. The interior is even better! Is that a single 6×9 speaker on the center hump? Center channel for surround sound? The ad points out that the seats are from a Hummer H3. Who gives a rat's ass? Are H3s known for good seats? Are H3s known for anything at all?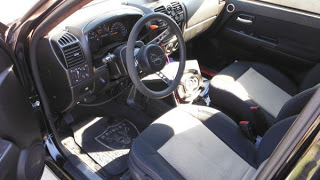 But wait, there's still more! BRASS KNUCKLE SHIFTER! If there's anything more manly than a column-mounted shifter (you know, like the ones in your grandmother's car in the 70s), it's one with brass knuckles custom-fitted. It's not clear to me whether they have a quick release feature for actual fight usage, but one can dream.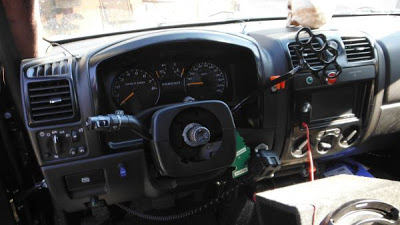 Full ad text. We deleted the phone number, though we're proud that Oddimotive corporate headquarters shares the same area code!):
"hey guys im selling my 2008 chevy colorado. i bought this truck brand new and went to work customizing it but i have just lost interest in it. she runs great cash only no trades she has 40, 1XX. i dont drive her too much have always worked /stayed local. but have taken her to havasu with no problems. any questions come check out the truck and lets make a deal. call or email 562-XXX-XXXX $MAKE OFFER, NO LOW BALLERS, NO FREE RIDES., give me a call and make me a resonable offer. cash is king. no shes not a salvage truck. will trade for silverado

Truck Info
Type
Colorado Z85

Engine
3.7L Inline 5

Year
2008

Cab Config
Regular Cab

Engine/Performance
3.73's with LSD
Cherry bomb "Extreme" duals "side by side"
Custom Air ducts to Air Filter
NO Cats
Kevins Homemade intake
PTB
1/8mile run:
60′ – 2.059
330′-6.056
1/8 -9.354 @74.96

Suspension/Wheels
6/7 drop
3″ djm lower control arms
Custom 6″ Notch

Adj Belltech Coilovers
4″ blocks, Belltech leafs
16X8 nascar victory rims/245-50-16 falken 912

Exterior
Custom 3″ flared bedsides
Custom round wheel wells
Custom made alum. adjustable nascar sproiler
Custom "flush" homemade trans member
Custom leds under doors
Street Scene grill
L.E.D blinkers (smoked)
LED 3rd brake light
LED tails
SS mirrors
Projector headlight w/8K H.I.D (baked & painted)
8k HID fog lights
Limo tint
Aluminum gas door
8″ aluminum antenna
shaved tailgate

Interior
Custom mag light mounted in headliner
Custom quick release steering wheel
Custom home made brass knuckle shifter
Hummer H3 bucket seats
roll on bed liner in cab (no carpet)
5 panel wink mirror
LED cluster
LED footwell & dome
suede headliner & pillars
painted dash inserts
pa speaker

Audio/Multimedia
pioneer 5.8″ headunit w navigation
Sony Xplode 6X9″