This 1964 Electra King is one of several 60s and 70s electric oddities – this one a bit more of a utility vehicle (golf cart, etc) than a true car.
Click here for some info on the company that made it.
Regardless of planned usage, the following quote is car ad genius: "doesn't presently go forward or backward." So…what DOES it do?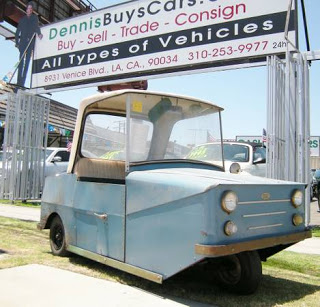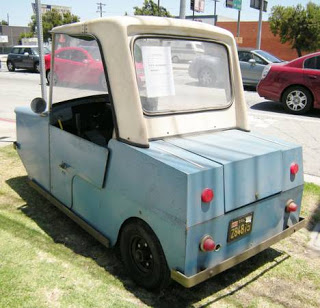 Ad text:
One family owned since 1964. Original Black CA plate. Needs a little TLC. Has power, horn and lights work, rebuilt electric motor but doesn't presently go forward or backward. You finish and have a real attention getter.

Are you SELLING or TRADING a weird car? WE BUY CARS, TRUCKS and CLASSICS TOO. Call us now or go to http://dennisbuyscars.com for a FREE consultation and quote or to see our full inventory of cars for sale.