Anyone who knows 80s cars knows Chevy never made a convertible S10 Blazer, so this is a custom job, but it does look like it was meant to be. The V8 swap solves the extreme slowness problem these had, but we worry that the lack of a proper top means you're screwed if you take more than one friend with you and it starts to rain.
Underneath it all, this is a 70K mile Blazer with what sounds like a nice SBC build and proper dual exhaust. Air conditioning was removed at the time of the swap, so that might limit appeal in some climates; but only a tonneau cover is included; so we don't think AC would help much, anyway. This is also a RWD version, which limits appeal in other climates. So…this is a completely impractical little SUV, but we're still oddly drawn to it.
Click for eBay ad
Norcross, GA, USA
$7,500 BIN with offers considered and four days to go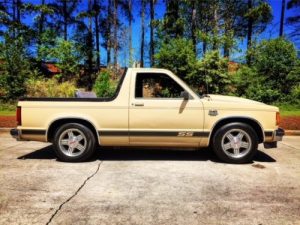 This looks almost stock.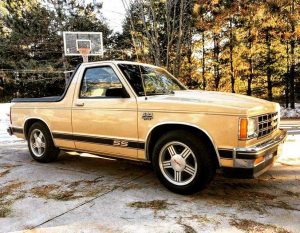 Front is, well, pretty much just an S10 Blazer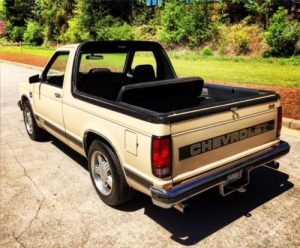 The rear seems to be well trimmed out and the seat is still present.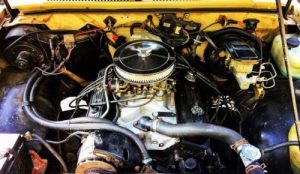 350 has replaced what was likely a 2.8 V6 and a total dog. While not a Typhoon, this could be a lot of fun.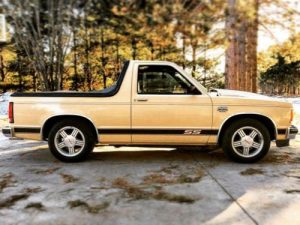 As far as we can tell, the only top included in the sale is this tonneau cover.
Ad text:
Awesome little truck, 1985 Chevy S-10 Blazer Tahoe Edition with convertible conversion; comes with custom black heavy gauge vinyl tonneau cover with vinyl rear window. Truck is in great shape, around 70k on the body; minor dings and some touch ups common for a truck even in this great of condition; original doeskin tan paint except for the aftermarket metal cowl hood. Strong built 350 swapped around 2000 miles ago, Vortec heads, comp cam, Edelbrock carb, aluminum intake, c4 headers, 700R4 transmission, custom dual exhaust. Lowered with springs and blocks, perfect stance on ZQ8 stocks (now with Chevy bowtie center-caps rather than the GMC ones shown pictured), tires have lots of meat left. Lots of fun to drive especially with the top off . Interior is very clean charcoal cloth. Manual windows and locks. Truck was originally a factory A/C delivered truck, but all under hood A/C components were removed when the engine swap was done. Dark tinted windows, new CD player with remote. Sunroof pops up or out if you want some extra breeze. $500 deposit to be delivered via PayPal within 24 hours of purchase. Buyer responsible for delivery. Also for sale locally; listing may be removed subject to sale. Contact me with any questions. More pictures on interior and engine will be added soon.