Do you want a unique family hauler without too much cargo space? How about an Olds Eighty-Eight with six doors? Sure, it probably hauled families to funerals, but at least it's not an actual hearse. As a bonus, this sale includes a 1970s child seat/death trap!
This is a relatively low mileage vehicle, but it does have a few needs. Hot rodders should consider a swap, as we imagine the Pontiac 301 V8 barely allows this heavy beast to keep up with traffic.
The seller has provided a ridiculous amount of info below, including money-making ideas for the next lucky owner. We recommend you read the text below…
Click for eBay ad
Logan, OH, USA
$2,200 with no reserve, 28 bids and four days to go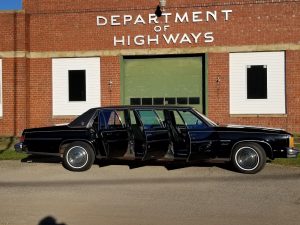 Back in the day, six-door limos sometimes served as airport transportation. Given the black paint, though, this was likely in a funeral home fleet.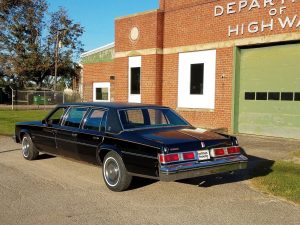 Here's the rear – no more exciting than any other angle on a 1979 Olds 88.
Front shows very good condition.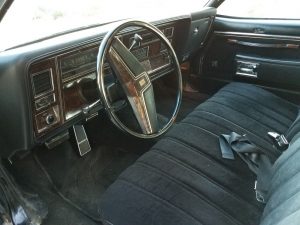 Cockpit looks like any other 1979 Olds – for better or worse.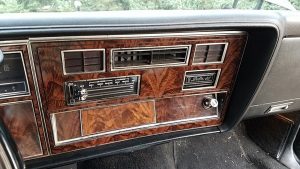 No radio here! That is, supposedly, a factor delete plate.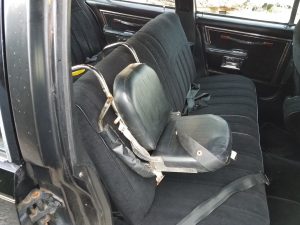 70s era baby seat is included in the sale but not recommended for use.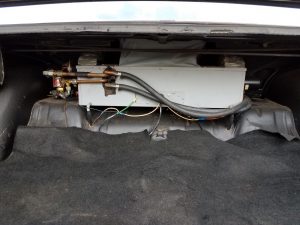 Rear AC looks a bit "custom", to put it nicely.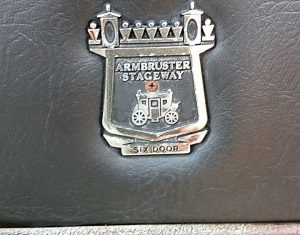 Armbruster Stageway is still a big operation in the funeral car biz.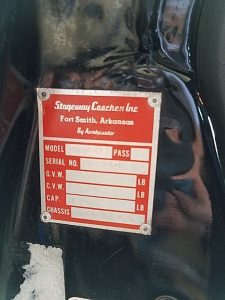 We assume Stageway stretched 'em and Armbruster finished 'em. BTW, I do know where Fort Smith, Arkansas is!
Ad text:
PREFACE-
Hello,
This is a LONG description, for a LONG car. For "just the facts" see the RED TEXT below.
There are rare cars, then there are VERY rare cars. As the potential proud new owner of this ultra-rare OLDSMOBILE you may enjoy trying to find another 1979 OLDSMOBILE like this car before you buy it…, go ahead, use your best internet search skills and please send me your findings, if any, and I will post them on this ad. I have ONLY found THREE images – one of a light colored '79 Delta in Hawaii, with a roof rack, a Black stretch Limo on display somewhere on Facebook and a sales brochure for a full blown 79 Delta Limo by ARMBRUSTER STAGEWAY.
That is all I find. I do find Buicks, CADS and Chevies with the same body –but NO OLDSMOBILES. If by chance YOU HAVE ONE please email me. This low numbers Olds may be the ONLY ONE LEFT. THE ONLY ONE…as in NO OTHERS.
THIS CAR IS MORE THAN RARE and IT IS CHERRY!
GO AHEAD BUY IT. You will be a proud owner. I have just gotten too old for the car and ALL THE CHICKS it will pick up. The car is HANDSOME.
They don't make OLDSMOBILES anymore, nor do they make PONTIACS anymore.
And there were very few Olds 6 DOORS built in 1979 which was 38 years ago.
This car is so elegant that Caddys don't have anything on this car. Cad limos are a dime a dozen, this my friend is an OLDSMOBILE. A VERY SPECIAL and VERY NICE VINTAGE OLDS. This car is SEXY.
This car has a fine running PONTIAC MOTOR in a super cherry, original unrestored OLDSMOBILE. GM swaps motors in their brands. Remember the PONTIAC T/As with the OLDSMOBILE 403? Same deal, same time. In the car world this GREAT OLDS LIMO is known as an ORPHAN, a car whose parent company died. The Black limo is powered by its 301 ORPHANED cousin PONCHO, PONTIAC. GM axed OLDSMOBILE AND PONTIAC and this limo IS COMPRISED OF BOTH BREEDS that are GONE BUT NEVER FORGOTTEN.
This ARMBRUSTER STAGEWAY 6 DOOR could very well be one of the most rare OLDSMOBILES you may ever have the chance to bid on. IT RUNS GREAT AND IS SO COOL and OPULENT. The interior oozes elegance. I will give you info here to TRY TO LET YOU KNOW HOW GREAT THIS CAR IS…BUT IF YOU DON'T COME TO 43138 AND SEE THE CAR –OR–WIN THE CAR IN THIS AUCTION or MAKE ARRANGEMENTS TO BUY IT NOW YOU WILL NEVER KNOW HOW CHERRY IT IS
Below you will find color coded "CHAPTERS" describing this car and the sale details-
JUST THE FACTS
1979 ARMBRUSTER STAGEWAY OLDSMOBILE 6 DOOR FAMILY CAR LIMO
RUNS GREAT and DRIVES GREAT TOO
CLEAN CLEAR OHIO TITLE
GOOD TIRES
67,250 MILES
BLACK, BLACK INTERIOR, BLACK VINYL TOP
RADIO BLOCK OFF PLATE (NO RADIO)
301 c.i.d. PONTIAC V8
AUTOMATIC TRANS
A/C WITH REAR AIR UNIT
HAS ALL FOUR ARMBRUSTER STAGEWAY EMBLEMS/PLATE
POWER WINDOWS
POWER STEERING
POWER BRAKES
SINGLE EXHAUST
SOLD AS IS-NO RETURN
DEPOSIT IS NON REFUNDABLE
SELLER WILL HELP BUYER SHIP WORLDWIDE
MAKE MONEY WITH IT
THIS OLDS IS A CASH MONEYMAKER, especially if you live in a major city or resort area. Two words… "BACHELORETTE PARTIES" Once you, the new owner and Captain of this OLDS LIMO install an eight track under dash tape deck and find a selection of tapes including "Saturday Night Fever" (BeeGees) – BLONDIE (Best of)–
and "GREEN ONION" (Booker T and the MGs) THEN YOU DO THE FOLLOWING:
You wash the car up, polish the glass all up on a Friday— and Friday night you cruise the car. Limos are easy to park on a curb close to the door of establishments if you stay with it. Since it is 38 YEARS OLD and COOL MANY, MANY people will be drawn to and talk to you about the car. PARK OUTSIDE A NICE PLACE. That is when OPPORTUNITY KNOCKS and you offer interested parties a business card you have had made with an image of the YOUR COOL Olds on it and your personal catchy limo spin (slogan,name…) — on a good night you could pass out 200 cards. Then your phone will ring. You charge 75 to 150 dollars per hour and take out fun people who know how to party. The business card hand-out snowballs and you move the LIMO into a niche market. Hauling DRUNK WOMEN IN BLACK LEATHER MINI SKIRTS all around town until 3 am. BACHELORETTE PARTIES!!! The parties go late and if you are good– tips can go $150 plus. Usually pick up is 8 or 9 pm so you have the girls out for 5, 6 or 7 hours @ $100 per/ plus tip from perfumed, dolled up young ladies. This is tested and proven AND if you have a running buddy; he rides shotgun handling the doors, music, cooler, coats and etc.
Practice makes perfect and the GIRLS END UP LOVING THE DRIVER AND SHOTGUN VALET more and more with each stop, as the girls get more loaded at each bar— the LIMO GUYS become bigger and bigger heros. You are actually watching out for them, counting heads, negotiating discounts on cover charges, opening doors—just being cool and helpful gentlemen—
As you drive them home and they are way loaded, you change the music to more relaxing JAZZ for the mellow late night cruise home. Cops love you too because of the designated driver aspect, It is a time tested WINNER! SWEAR TO GOD.
OR…
WINE TASTING TOURS…very popular.
MOVIE CAR RENTAL
BLACK MARKET/UNDERGROUND UBER
AIRPORT CAR
CHRISTMAS LIGHT TOURS
CONDITION AND SALES INFO
Not only is this the ONLY 1979 OLDSMOBILE ARMBRUSTER STAGEWAY 6 DOOR YOU MAY FIND ANYWHERE…this car starts, runs and drives like new.
If you read through my FEEDBACK you will see I have used honest descriptions here on EBAY FOR DECADES. Many of the feedback says "better than expected"
REGARDING THIS CAR; I AM HAPPY TO SAY ON RECORD THAT THIS OLDSMOBILE LIMO IS A CAR THAT YOU, THE BUYER, WILL BE SO VERY HAPPY YOU OWN. YOU WILL BE AMAZED AT THE LIMO'S GREAT CONDITION FOR BEING VERY CLOSE TO 40 YEARS OLD.
Every door light switch turns on the dome lights when opening doors. The underhood light works. The trunk light works, The bright indicator works. The dash lights work and dim. Brake lights, turn signals, tail and license plate lights work. Both bumpers are nice although the rear bumper has a playing card sized area where the chrome has peeled and there is surface rust. It should be repairable. (pic) There is a 1979 unregulated "BABY SEAT" included (see pic) it is in good shape needing some repairs, the seat must have been for the son or daughter of the dead person who the Olds was fired up for on that particular cruise to the cemetery. I suppose the seat could be for a Grandson or Granddaughter; or maybe both parents were killed –and the kid the seat was for became a millionaire heir, who knows? I am just sayin' there is a baby seat that goes with it. Once you fix the A/C –IF YOU HAVE A BABY -OR CAN BORROW ONE you could hide the real baby seat and strap the kid in the 40 year old contraption when the judges come by at the car show, give the kid some candy just before the judges come and they will see the vintage baby seat in action.
The car has an AHH–OOOG–GAH horn although it mostly just goes "AHHHH"
when the factory steering wheel horn buttons are pushed. THE HORN IS FUN AND YOU MAY WEAR IT OUT.
The inside of the trunk floor is CRAZY GOOD. see pics-
The tranni shifts LIKE A CHAMP and naturally downshifts like a new car. It sounds great too –you know that GM Turbo-Hydro sound.
The car was undercoated and the floors are in great condition.
There is a receipt for new front calipers and brake pads in march of 2017.
Some historical maintenance, registration and insurance records are in glove box.
The rear air shocks work but the air lines must have a slow leak.
The car's suspension feels "boaty".
The headlight bezels have pitting.
Brightwork is VERY nice.
THE DASH IS BEAUTIFUL-see pics
THE HEADLINER IS STILL IN GREAT SHAPE with only a few issues–
THE SEATS ARE IN VERY GOOD CONDITION as is the CARPET –
THE CAR HAS ALL THREE ORIGINAL ARMBRUSTER STAGEWAY EMBLEMS–see pics
THERE IS NO RADIO AND THE CAR NEVER HAD ONE-check the FACTORY RADIO DELETE plate – in pics
SPEEDO WORKS, WIPERS WORK, BACK-UP lights work
TURBO HYDRO TRANS SHIFTS WELL – REVERSE is FINE and the trans has that corporate TURBO HYDRO SOUND.
SINGLE EXHAUST is QUIET/no leaks. the pipe sometimes rattles against the frame somewhere under the car, something for you to have fixed ( you the new owner needs to have something to do!)
All windows and glass in car is good WITH EXCEPTION on 4 inch rock chip/crack in front windshield and scratches on pass. front door class.
FRONT DRIVER'S AND PASSENGER POWER WINDOWS go UP/DOWN WELL
middle windows are stationary from factory and both rear POWER windows need investigation and repair.
I have not changed oil and new owner will want to soon.
If buyer is going to drive the car hundreds or thousands of miles home I will change the oil for them. The oil looks fine on the stick just could use a change. YES YOU COULD DRIVE IT HOME, FLY INTO COLUMBUS OR CINCY and I WILL PICK YOU UP IN YOUR NEW OLDS AT THE AIRPORT.
The car's tires are very decent/there is NO SPARE in the trunk.
If buyer is going to drive their new limo across country to get it home I will set them up with a decent spare and jack and tire iron, and an oil change AT BUYER'S EXPENSE–but car is being sold with no spare/jack. The brakes could use a bleed and I will look into that if buyer is going to drive home…BRAKES FEEL AND SOUND GOOD with "SPONGEY" pedal- and "BRAKE" warning light is on. The car may need a new master cyl. ASH TRAYS ARE NOT ALL CIGGYED UP. The car looks great for almost 40 years old but is needs paint and light body work to be perfect.
THE CAR CAN TRULY BE CONSIDERED A " CREAM PUFF"
It does have 38 year-old (what I think is "ORIGINAL") BLACK PAINT and the CENTER DOORS AND JAMBS paint is not holding up as well as the factory job on the front and rear of the car—so I think that the Armbruster Stageway shop cut a new BLACK OLDS in half and only painted the "STRETCHED" section. The faded center section seems to show it has not been repainted and is original.
WHAT THE CAR NEEDS
The car needs and is missing the rear bumper fillers. They are available.
It needs a new windshield; the car's windshield has a rock chip (not blocking driver or passenger) turned 4 inch crack.
It needs a DELTA ROYALE HOOD ORNAMENT
and DECK LID OLDSMOBILE STICK ON EMBLEM
These parts can be found on EBAY.
THE CAR CAME WITH NO RADIO–and has a super rare DELTA RADIO DELETE PLATE!!–since it was a FAMILY CAR I think the reason there is no radio is because it would not be too cool if the song "TOMORROW, TOMORROW, THERE IS ALWAYS TOMORROW" was playing loudly on the way to the grave site!
One headlight has moisture in it. It needs a Master Cylinder although it stops alright as is. The single exhaust, although non leaking and quiet, hangs a little low, rattles and should be sorted out or be replaced with a nice set of duals. It needs wiper blades. The headliner is VERY NICE needing a few repairs at the front edge. and detailing here and there. The vinyl top needs Vinyl top product to clean and soften/protect but it is mostly very good. The top has a few gouges on the passenger windshield pillar–but these can be repaired to look fine. There is a faded metal trim piece just behind the back window that needs repainting. The air conditioning needs to have a can of leak check run through it to find a leak…the hoses run to the rear air, large supplemental unit below the package tray. When I got the car the A/C controls worked the fan and it came on blowing fine. After power washing under the hood the fan does not blow. I may find the problem but if not this will need to be tracked down before you charge the system. The front two power windows work fine –the center are stationary and the rear two power windows need some work, The driver side rear window does move up and down- it just needs some TLC. The right rear window is not working and I have not looked into that. The front right passenger window has some scratches in the glass and I THINK it will need to be replaced. This is the same door glass as a 4 door equivalent GM model. The speedo cable squeaks a little and needs lube/graphite. The car has ONLY a few issues for the buyer to get his hands dirty on. These few things are needed to turn this into a PREMIUM 10 POINT COLLECTOR CAR. Finish these few things yourself and you really have a VERY FANTASTIC car. THE CAR IS TOP NOTCH–There is not too much wrong; just enough to be able to say that you restored it.
The "STRETCHED" area of the car is not as cherry as the original black 79 GM paint,
This fact/point shows the car's UNRESTORED STATUS. and its originalness is JUST GREAT!!
Buyer will want to repaint the center doors, the center door jambs and the hood to make the car really pop. There are areas at the inside bottom of some doors that need attention to fix light and moderate surface rust. Rust is DEFINATELY not a major issue with this car although you or your bodyman will have some areas to clean up here and there. The hood has sun-baked /cracked original black paint. The deck lid is not as bad and may color sand (wet sand) and buff. The center doors are faded and need the jambs to be cleaned up and resprayed.
The car is 38 years old and it could use an overall paint job. There are spots where it looks like bird doo-doo sat on it. It has a few small dents but
OVERALL THIS CAR IS VERY BEAUTIFUL–
I CANT SAY THAT ENOUGH. It has the potential for a PEBBLE BEACH STYLE QUALITY 10 POINT SHOW CAR with not THAT MUCH WORK-
JUST SAYIN'! – she is a beauty.
DELIVERY, SHIPPING or PICK UP
DRIVE it HOME, come get it in 43138 at the intersection of hiways 93 and 33 in South East Ohio. OR, Have it shipped- I will help coordinate pick-up/shipping with your shipper. I also can deliver the car to you for a fee. BUY THE CAR AND HAVE ME DELIVER IT TO YOU TO EASE IN FINDING A SHIPPER–contact me directly to find your price for the car and delivery… DELIVERED to your driveway WITH NO SHIPPING HASSLE delivery is a separate deal and buyer pays for delivery in advance.
REMEMBER —SOLD AS IS, WHERE IS, WITH NO RETURN OR WARRANTY–
once you own this car you WILL BE SO HAPPY YOU OWN IT-
also remember –my feedback shows my descriptions are either RIGHT ON or understated. THAT SAID…"THIS CAR IS A SHOW WINNER WITHOUT a HUGE amount of RESTORATION " that is my story and I AM STICKING TO IT!
Armbruster Stageway has a rich tradition in the funeral car industry that dates back for over one hundred years. Armbruster Stageway was started by three Fort Smith men building and restoring horse drawn wagons. As the transportation industry changed, so did Armbruster Stageway. When a bus company asked if a regular vehicle could be stretched for professional purposes to make short transportation runs, Armbruster accepted the challenge and built the first combustion engine limousine. Building funeral coaches and limousines, Armbruster Stageway made its mark on the industry as the sign of excellence in professional vehicles. As the oldest name in the professional vehicle industry, Armbruster Stageway is back in business and building limousine and funeral coaches in Fort Smith, Arkansas.