If you're a huge fan of the Fallout video game series, this is the Chevy Astro for you. If not, well, it's just an interesting midi-van.
This van features four very nice air-ride-type captain's chairs, similar to those used in semi trucks. Read the text and you'll see that the seller is very proud of those chairs. Other features include Corvette blue paint with matching wheel paint and a rebuilt 4.3L V6.
Click for eBay ad
Parrish, FL, USA
$5,000 with four bids and 3.5 days to go
Special thanks to reader Robert S. for this one!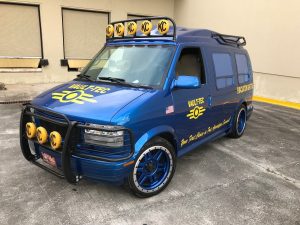 The front view gives a pretty good idea of the paint scheme and the quantity of lights involved. Caution – the seller says some aren't yet hooked up.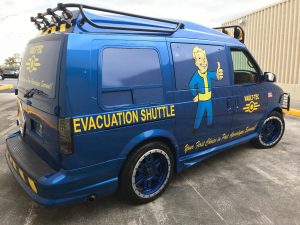 Rear 3/4 view shows theme continuing to the rear. We're not sure whether the "rack" serves any purpose.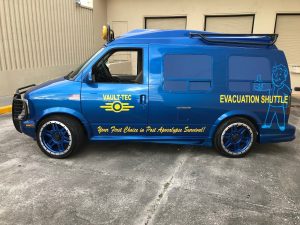 Side view shows "blued out" windows and those wheels. Are those faux bead locks?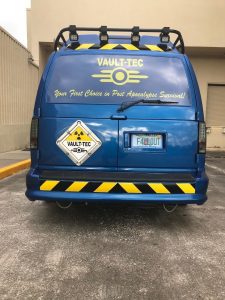 Remember the cool doors on these vans?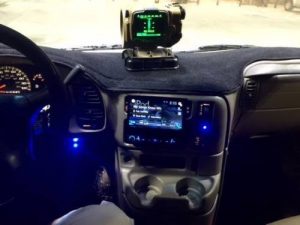 Interior is fairly benign and the seller claims this is a combination Alpine and Rockford Fosgate AV system.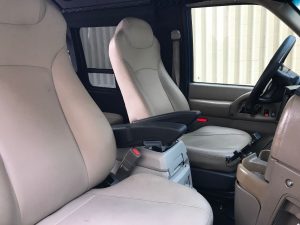 Those seats!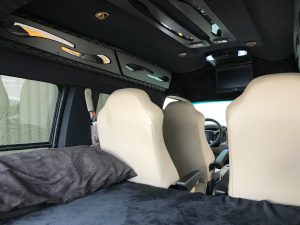 The rear features a bed with velour, as it should in a van. We suppose the fallout theme could be used to convince someone to help you repopulate the earth, so a swanky bed is critical.
Ad text:
We have all heard the phrase "one of a kind" before, but nothing personifies that like this truck. Why? Who knows… I had a hard on to build a really cool conversion van, and happen to be a huge Fallout fan. It's a true show stopper, every traffic light and gas station fill up turns into a conversation and photo shoot. Gamer's have a complete nerd-gasm over it, and even those who have no idea what Fallout is want to take pictures and talk about it. Its a genuinely cool van to drive. Hate to sell it, but need to fund another project.
FEATURES
4 Prime Seating 400L fully adjustable air ride captains chairs
Twin viair compressors and stainless tank
4.3 Vortec .30 over crate engine
Body color extra wide 20′ wheels and tires
Rolls Royce style cutpile carpets and custom diamond stitch interior
Flip down 13′ TV w/ built in DVD.
In-dash TV w/ Rockford Fosgate/Alpine sound system w/ subwoofer
Full sound deadening all all body panels
Memory foam bed mattress
Ultra high UV block ceramic tint on all windows (including clear ceramic on windshield)
Custom center console
I would add that for those of you who just might want a kick ass conversion van, all of the graphics can be easily removed if desired (pre-graphic photos included) and virtually no expense was spared in building it.
Although the odometer reads 124k miles, At least 90% of every major mechanical component is brand new. It is essentially a new van built from new parts. Has less than 10,000 miles on it since completion and everything is in great working order (only item I never finished was wiring up some auxiliary lights)
It is amazingly comfortable, all 4 captains chairs are Prime Seating long haul semi air ride seats. Fully adjustable height, lumbar, side bolsters and heated to boot, these are fit for a king.
You can find more info on the seats at primeseatinginc.com
A fun twist on air-ride, kids and adults love to sit in and play with them, they are like riding on clouds. Weren't cheap, but you get what you pay for! Rear bed mattress is memory foam, super comfortable and the bed itself is removable.
The paint is base/clear 14′ Corvette blue, the engine is a fresh crate engine .30 over from O'Reilley's, the Alpine/Rockford Fosgate sound system is super loud and clean. All the interior is hand crafted diamond stitch vinyl, carbon fiber wrap and vinyl. Even the carpet is mass backed cutpile like you find in high end luxury cars, and just about every interior panel is lined with sound deadener. This was a build that rivals what West Coast Customs or many other custom shops produces and I took great care to cut no corners and make a fun, awesome, great daily driver vehicle. An itemized list of everything that went into the build is included in the photos.
You can see some photos from the build here in the photos section:
facebook.com/evildodge
All in there are over 175 man hours in this build not counting the paint and body, and over 23k just in parts alone. I have an easy 30k invested in the truck doing much of the work myself, and I doubt any custom shop could reproduce for it for less than 40k+.
Are you the worlds biggest Fallout fan? Want a one of a kind awesome van or just simply the coolest conversion on the block? My loss is your gain! Fly in and drive it home, you wont be dissapointed with this kick-ass custom.